Walk the Walk: Mr. Atom Araullo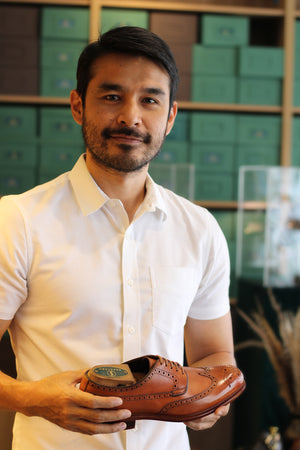 Multi-awarded journalist Atom Araullo sits down with Sapatero to talk about excellence — in life, and in shoes. 
Dressed in a crisp white shirt and a pair of well-fitting jeans, Atom walks into the Sapatero showroom with a laidback yet commanding presence. His calm demeanor is perhaps not one might expect — not of a veteran journalist nor a known activist — yet it reveals the temperament of a man who has walked far despite his age.
Atom browses around our showroom and picks up a couple of pairs on display, paying close attention to the craftsmanship and fine details. We asked whether or not he considers himself a shoe guy, "I think so," he says tactfully. After some thought, he adds, "I've learned to appreciate well-made shoes."
We bring him his very own Sapatero pair — Quarter Brogue Adelaide Oxfords in Bracklen Italian Museum calfskin. He puts them on and walks around a little, and in a mere few steps it was clear: the shoes were indeed made for him.
"I really love the fit, first of all, but it's a design I don't think I would have picked myself," he says. "I lean on the conservative side, and I don't like a lot of details in my shoes. But I decided to be more adventurous with this one. I know it's not as adventurous as a green pair of loafers or crocodile skin, but I think this would look very nice with a suit, or even when I'm dressed down."
The process of creating the pair is akin to the journey of the man who now walks in them. Just as our shoemakers took their time and made every effort to craft the shoes the proper way, Atom earned his success in journalism without any shortcuts. He started out as a researcher for a documentary program, learned the ropes, and acquired and honed all the right skills to steadily move up the ranks.
These days, he helms a documentary program that bears his name: a career milestone for anyone in his field, but one that initially felt strange and thus took time for him to get used to. He also co-anchors a nightly newscast from the network studio, which he thinks of as a place where his Sapatero pair would have "a long life span."
While pursuing journalism was not a deliberate decision — he majored in Applied Physics, after all — he has come to embrace the importance of the work that he does.
"I've been very lucky. I think it's a privilege to do the work that I do," he notes. "And I don't take that privilege lightly. That is what motivates me. Throughout history, journalists have played their part in important moments where we saw big changes happening."
"But I guess, in any job, it's going to be difficult, it's going to be stressful from time to time," he continues. Throughout his decorated career, he has covered every imaginable story, yet there were times when he still found himself asking "whether or not I was fit to do this job."
"But the fact that, every once in a while, I can look at the work I've done, hear feedback from people, and see how certain stories have opened the eyes of some of our countrymen, or have changed some people's lives — that's a natural high that really keeps me going," he shares. 
The accolades he has received in his 16 years in journalism attest to his excellence — an idea that he had a rather interesting take on.
"It's more of, I want to explore many things, and challenge myself to learn and be good at those things," he shares thoughtfully. "I guess this comes with maturity as well, but at a certain point, you just have to realize that you're doing the best that you can, you're setting your own benchmarks, and that's enough, I think."
"Now, whether or not that reflects as excellence, I really don't know. I mean, I'm  happy that some people think so, but it's really more believing in yourself, basically, that you can be good at this." However humbly he insists otherwise, his resolve to constantly improve himself is itself an assertion of his excellence not only as a journalist, but as a person. 
Though far from finished, his journey is already a quintessential example of excellence: what it means, and what it takes. He understands that there are a lot of factors beyond his control, so he zeroes in on what he can control, which are the decisions he makes everyday. Mostly small decisions, yes, but each one a step in the right direction of a man who walks the walk. 
His grounded definition of excellence as "a process and not a destination" makes him a kindred spirit of the Sapatero brand: relentless in the pursuit of an ever-moving, ever-changing better, focused on learning and putting in the work, without ever losing sight of his values — the same motivation behind every pair we craft.
Asked where he thinks his Sapatero pair would take him, he smiles and quips, "Places, I hope."
Original words by Isay M. Roque