Dressing For The Pandemic — And After, With Sapatero and Studio Sampaguita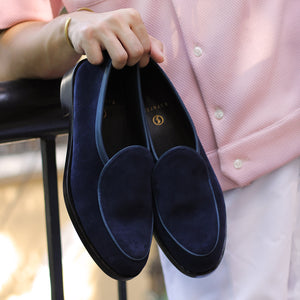 Indulge your high sartorial standards during these peculiar times: Sapatero teams up with Studio Sampaguita for everyday casual ensembles you'll look good and feel great in.
Living in the times of the pandemic, we find ourselves mostly at home these days, but for many of us, stepping out for important matters and daily errands is a non-negotiable part of our days. Of course, the status quo has somewhat shifted, and dress codes have generally gone down; laid back pieces and comfortable wear have become the preeminent staples of our wardrobes, and with good reason.

With that in mind, dressing down by no means equates to sacrificing our innate desire to look good while feeling good, and we'd like to present a few pieces that we think would be perfect for navigating this duality:
For the semi-regular grocery run or walking the family dog
Hot, sunny afternoons are inevitable and Studio Sampaguita's Presko shirt, made from Kantarines weave from the province of Abra, will keep you cool even in local tropical weather — as its name so aptly suggests (presko is Filipino/Tagalog for fresh). Inspired by the style of the 50s, the shirt is an homage to the golden era of Filipino cinema. 
Balance the brightness of the apple green top with their Pasyal shorts in midnight blue seersucker and Sapatero black Charles F Stead calf suede unlined loafers. The shoes are made with the signature leather Flex soles of Italian tannery Cuoificio La Querce, which are designed to naturally move and flex with your feet to keep them comfortable as you step outside or walk around the house. 
This look is also an easy pick for  when you need to go outside to run quick errands like shopping for groceries, picking up the restaurant takeaway, or to walk the family dog. Perhaps you can start planning for that future trip as well — after all, we like to think we'll be through this pandemic sooner rather than later. This same outfit is perfect for a tropical getaway: relaxing on a beach on any one of our seven thousand one hundred and seven islands, margarita in hand.
In the meantime, you can don the ensemble when you have that e-numan session with your friends. Wear it, pour yourself a glass of single malt, and get on that call. Show them you haven't lost a step, and consider changing into something different:
For the business owner going on a casual site visit
Studio Sampaguita's Presko shirt comes in plushy pink cotton that's just as stylish but more subdued, and it pairs well with the same Pasyal shorts. 
While the combination leans towards elegant, maybe even dressy, you can keep the whole ensemble casual and laid back — while still making a bold statement — with Sapatero's Revenador sneakers in hand-patinated burgundy cowhide. 
Perfectly comfortable for walking and even driving, the versatile pair is great for errands like paying a visit to the construction site or your company's factory. (Never forget to wear a mask when you step outside.)
For that occasional trip to the office
For those required to visit the office or for a busy day in your work week (don't forget your coffee), the pink cotton shirt can be matched with Studio Sampaguita's white cotton Pilyo trousers, front pleated with a tailored cut and an accented waist band. Complete the ensemble with an extra dash of color, through Sapatero's navy blue Charles F Stead calf suede unlined loafers; a piece that is as subtly stylish as it is comfortable. 
 Have an important online board meeting to attend? You could throw on a linen Safari jacket, too — not just for this look but for all the rest, as it goes with practically anything.
Although your trousers and loafers won't normally be seen when you go on your online meetings, wear them anyway. Working from home can often blur that thin line between your personal and professional life — and a great way to maintain the boundaries is to get your brain into work mode with what you wear, including those pieces that don't make it within the Zoom frame. 
Again, after the world returns to normal, we see this as a perfect look to be worn on a sailing trip or a cruise; an ensemble for the king of the world, if you will. 
For the cozy evenings spent at home
Even when the work day is over, you'll likely want to keep wearing these same clothes because they're that comfortable. So just kick off those shoes and let Sapatero's luxurious brown suede lounge slippers cradle your feet in cushioned insoles wrapped in soft Napa leather. It doesn't get more homey than that, so go ahead and uncork that well-earned bottle of wine, and enjoy a toast with your significant other. 
Some may find the idea of dressing up during the pandemic frivolous, and that's okay, but again, it can't hurt to get out of our trusty pambahay clothes sometimes, too — especially on days that we could really use something to boost our confidence or lighten up our mood. We may be living in peculiar times, but we are allowed to wear whatever makes us look good and feel our best. After all, why not?
For our dear readers, we at Sapatero are offering a 20% discount for this month of August for anyone who has been vaccinated (whether full dosage or partial) and to all medical front liners and practitioners. Let's continue to do our part in fighting this pandemic, and keeping one another safe.
 
Co-written with Isay M. Roque
---
Also in Walk The Walk