Learning From The Masters: My Journey Studying Shoemaking in Florence - Part 6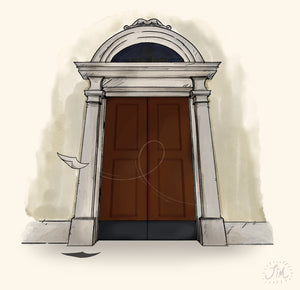 Coming off from Lineapelle, I was with high spirits. Right before leaving for Milan, we were already taught how to make the pattern for our first real shoe: a tassel loafer sample. As soon as I got back to the school, I went back to work finishing the pattern for the tassel loafer, and proceeded in preparing all the materials and tools needed to complete the shoe. I reviewed all the lessons from before, visualizing how to correct the mistakes from previous samples in order to make the best sample so far. 
Pattern, check. Insole, check. Uppermaking was still my weakness, as I did not have full grasp of the skills needed to properly operate the sewing machine. Lasting, check. Welting, check. As I proceeded with making the shoe, I felt delighted with my progress from the previous samples. The shoe was starting to turn out well - I'm able to execute the processes the best way I can. My hands are getting used to the strain, and I was starting to operate faster. Most probably because I was becoming more sure about how things should be and how the final forms should look like. Carving the insole, which is my favorite step, was much easier now than when I first attempted it. I felt the process was like riding a bike -  be confident in your strides, and things become much easier and much more stable. 
Things are going very well. Or so I thought.
At the start of March, the virus started to rear its ugly head. The cases of Coronavirus in the Lombardy region is rising at a rapid pace, the place where I just came from weeks before. The Italian Government started to take action, the province of Lombardy was closed from the rest of the country in just a few days. At this time, I was not as concerned as we were about 350km away, and going in and out of Lombardy was already prohibited. In any case, I decided to move faster in making my shoe, so when worse comes to worst, I'll have a finished shoe before going home. After all, it was just 4 weeks before the apprentice program finishes. However, as the first week of March ended, and as I stepped out of the school ready for the weekend, things looked and felt much more different outside the school walls. 
Firenze, a hub for tourists, a town that is filled with people going around shops in the afternoon, and filled with locals and tourists alike that enjoy its nightlife as soon as the sun sets, was eerily emptier than usual. Virtually no tourist groups can be seen. In Piazza di Santa Croce, there were only a handful of people around. You can feel the sense of anxiety from the locals, fearing that the Coronavirus would soon hit their hometown. My classmates and I had dinner and drinks after school hours, not knowing that it will unfortunately be the last Friday we will see each other. As I went home, anxiety hit. It was a very different feeling from what I've usually felt. The excitement, the drive, the high spirits I felt during the first few months in Firenze was starting to be replaced with doubt. I started asking myself, 
"Will everything be okay?"
"Will I be able to at least finish a shoe?"
"What's the chance I actually get the virus?"
"What will I do?"
Piazza di Santa Croce -- Not a soul in sight.
As I asked myself these questions, it did not help that as I passed through Piazza della Repubblica on my way home, its usual energetic and lively vibe was nowhere to be found. Shoppers, busking musicians, children riding the merry-go-round as their parents took photos, toy vendors tossing their colorful merchandise up in the air, romantic couples dining in the restaurants, locals on their phones walking home, are all gone. I asked myself, "Is the situation really this terrible?" 
Piazza della Repubblica -- Empty.
The weekend was uneventful, just spent at home updating my family, girlfriend, my partners about the current situation and what my contingency plans were if in case things become unmanageable. As I prepped my bed to go to sleep Sunday evening, a message goes through my phone. It was a question from my classmate, together with a photo. "What will happen tomorrow?" The photo was that of the Italian prime minister, declaring a total lockdown on Italy starting March 9. After this, I immediately decided that if the school tells us that they are also stopping operations, I will have to go home. 
"Coronavirus, new decree: All of Italy in total lockdown"
By March 9, the school decided to still be open as they were given the discretion to operate. Somehow I felt hopeful, that I'll still be able to finish my project. After all, I only had 3 more processes to finish: sole shaping, heel making, and finishing. I went to school early so I could start right away, and I spent the whole day working hard on my project. Progress was good. I'm on the brink of finishing my project. The next day, went again early to school, targeting to finish the heel and start finishing. At the end of that day, I had already completed building 2 layers of the heel, and I told myself the shoe will be finished the next day. I was quite optimistic. One more day to finish, and I'll be fulfilled no matter what happens afterwards. 
Wednesday morning, March 11, as I got ready to leave the house, a message goes through my phone again. It was from our teacher to our class. 
"Buon giorno everyone, please check your email. Classes are suspended until the lockdown is lifted."
Damn. It's over. 
I felt sad that the school was closing as I was on the brink of finishing my project, but then I realized I had no time for these emotions, I had to make arrangements and leave soon, or I'll be stuck in Firenze alone and far from home during the lockdown with an unforeseen lifting period. I immediately notified my loved ones and my business partners back home regarding the development, and started checking flights. Booking flights was quite terrible, as other countries and already placed travel bans to travelers coming from Italy. Bags packed, house cleaned, landlord notified, flight booked for March 13 Friday. All set. Thursday morning, we were notified by the school that we can come to school only to collect our belongings. Again, as I walked to the school, all empty. It was the first time I walked out of my house and not see anyone at all. As I arrived in school, some of my classmates were already there collecting their things. After getting my stuff, I opened my tool box and saw all my previous projects. I was filled with emotions, I was quite happy with the progress I made, but at the same time I was disappointed that things had to end this way. After an hour of cleaning up and collecting our things, all of us present in the room said our thank you's and goodbyes to each other. It was such a great pleasure to be studying the craft together with these passionate and talented people. 
Almost three months of my progress
March 13th, Friday, the day I did not foresee to happen. I'm flying out of Italy in a few hours. I got ready to leave, made sure the house was as clean as when I first went inside it. Final checks on my belongings, passport, wallet, phone. Everything else was ready, but somehow I wasn't. Still, it was time to go. I called a cab, arrived in the airport, same scenario, not much people. Most were wearing masks, some full gear, and some were handing out some of their extra masks to people who did not have. It was quiet and tense. As I walked around the airport, questions were still in my head. Uncertainty loomed. I was also told by my family that when I get home, the Philippines will also be on total lockdown. Although somehow I felt glad that I decided to leave that day. Any day later wouldn't be possible as that was the last day of operations for the Firenze airport, and other countries including the Philippines will not be accepting travelers from Italy anymore. 
As I waited in line to check in, I looked back on my experience and realized that it was still one of the best I've had so far. I met extraordinary people who have the same love for the craft of shoemaking as I do, I lived in a wonderful city filled with delicious food and pleasant locals, I gathered a lot of connections and information to aid our craft and business back home, and lastly, perhaps the most priceless of all, is that I learned from the Masters.
Check in. Board. Depart. See you later Firenze, I'm going back home. 
---
Also in Learning From the Masters: My journey studying shoemaking in Florence