Learning From The Masters: My Journey Studying Shoemaking in Florence - Part 5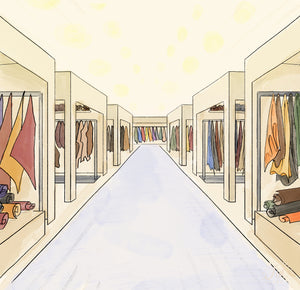 It was February 20th, 2020, Thursday. I started my usual morning routine. But as I stepped out of the house, I wasn't walking to go to school. For that day, I went to the opposite direction, and towards the Santa Maria Novella train station. The train was scheduled to leave at 930am, and arrive at Milano Centrale by 11am. I was on my way to Lineapelle. 
Lineapelle is one of the biggest trade fairs in Europe that is dedicated to shoemaking, with around 1300 exhibiting companies from over 40 different countries. Numerous tanneries, chemical suppliers, tools and last makers, designers, and trend setters are present in this fair. When our school administration mentioned late January that Lineapelle will be held in Milan on Feb 19th-21st, I made sure to make time to visit this prestigious fair. For a shoemaker or leather goods maker, this event is definitely one not to be missed. It's like being in a candy store, a huge one, as Lineapelle is held in an exhibition space of 46,000 square meters - roughly about 9 football fields. 
Due to the large exhibition size, it's always best to come prepared with a list of suppliers you want to visit, or a list of what items you are looking for. Otherwise, 3 days would not be enough to shop, look around, and get acquainted with the exhibitors. With this in mind, I prepared a list of items that we really needed for our workshop, but are not available back home. This list was also created through the information, techniques, best materials to use that were taught to us in the Stefano Bemer school. 
Outsoles 5.5mm-6mm

  

(target tannery = Conceria Pietro Presot)
Insoles 5-5.5mm (target tannery = Suolificio Prisma)
Pre-cut Welt leather (Target tannery = GiPiGi welts)
Pre-cut leather Toe Puffs & Heel counters
Hand tools (welt knife, brogueing sets, edge/waist/glazing irons, fudge wheels, finishing waxes/polishes)
I didn't focus much on looking for Tanneries that provide upper leathers as in my opinion they would be the most accessible, and we already have a great relationship with some of the best Tanneries like Ilcea, D'annonay, Du Puy, Weinheimer, CF Stead. So my focus was really finding the best suppliers for the other components of our shoes. 
After some delays in the train schedule, we finally arrived in Fieramilano Rho, the usual venue of Lineapelle. My classmates and I were greeted by this massive exhibition space, and we immediately wondered if we would be able to go around and find the suppliers we were looking for given the huge area, and given the limited time we had. We were only going around for one day, as we couldn't afford to miss classes back in Florence. It was a mistake on our end to arrive late in the exhibition, around 2pm, when the exhibition was only until 7pm. With this in mind, we immediately got a hold of the Visitor's guidebook which included the list of suppliers and their respective booth numbers, and planned our routes. Unfortunately, some of the tanneries and suppliers that we wanted to check out were not attending the fair, so we had to make sure to at least find exhibitors with the same product offering. And as the fears of the Coronavirus was starting to spread across Europe and other continents, the exhibition was not as packed, as also expected by the organizers. For us, this was somewhat helpful as we do not have to line up in booths to speak and inquire with the exhibitors. 
The floorplan/map for Lineapelle 2020
As we went around, I saw a lot of familiar names, and took some time to talk to the exhibitors and asked for their contact numbers. One of these exhibitors was Laquerce, which we already did business with during our early days. In this fair, they were exhibiting their super flex outsoles, usually used for ballerina shoes, but can also be used for men's dress shoes. This really interested me as the usual consumer in the Philippines want their shoes to be comfortable right away, even without breaking in. Definitely, a factor for comfort would be the flexibility of the insole and outsole. 
La Querce's leather soles -- incredibly flexible
Some of the other familiar names in the fair were Zonta Tannery, a tannery that also offers museum finishes for their calfskins; Tempesti, which I think have great grained leathers; Heng Long, the Tannery partly owned by LVMH group was also there with their magnificent display of premium crocodile leathers. Ilcea of Gruppo Vecchia Toscana was also there, and I made sure to check them out, as I wanted to have more of their leathers available as a regular offering for our brand. It was also a great coincidence that our agent from Japan for Tannerie D'annonay was also there in the Tannery's booth so we talked a bit and finalized our pending order with them which I placed before I left for Italy. After a couple of hours going around, we had made contact with most of the suppliers which offer the products we need. We also made some sample orders from GiPiGi welts, which we can already bring back to the workshop to try. As for the shoemaking tools, we were able to get a hold of the contact details and catalogue of CIAC, a distributor of different shoemaking tools from all over Europe.
Henglong - LVMH co-owned exotic leather tannery. 
Grained leather swatchbook from Tempesti
As my classmates and I were wrapping up our tour, I saw in the corner of my eye a small booth, not much displays, but the name was unmistakeable - Joh. Rendenbach Jr. - one of, if not the best oak bark tannery in the world. I immediately approached the booth, as I was still on the hunt for more outsole leather suppliers. Lo and behold, it was Hanns Rendenbach himself, 4th generation owner of the family owned Tannery, manning the booth together with Ms. Stefanie Kamminga. Previously, we had some clients bring their own J.R. Soles for us to use for their commissioned pairs, and we vouch for the superb quality of these soles. We exchanged pleasantries, and I immediately inquired about the possibility of bringing their products to the Philippines. They said they had no experience with shipping to the Philippines, but they are very much willing to explore doing business with us. They gladly gave us details about their products and which ones they recommend for our and our market's needs. This encounter delighted me the most. Out of all the exhibitors, finding Rendenbach is the best unexpected gem I have come across. I did not expect to see the owner himself, and for him to be very welcoming to my aspirations of bringing and using his brand for our shoes. Rendenbach is an outsole brand that most well known shoemakers and cobblers would vouch for. Pricier than the usual brands, but definitely well worth it for the longevity of a great pair of handmade leather shoes. 
The Unmistakable "JR" Soles of Joh. Rendenbach Jr. 
As the exhibition ended, excitement again built up within me, as I knew that I have finally had connections with the best suppliers in the industry. Even with the thought of difficulties in importing these items once I'm back home, I couldn't get over the vision that we can finally, really, make shoes that can somehow be on par with the superb quality of handmade shoes produced by high-level makers around the world. It was a tiring day of long train rides,  walking, talking, and thinking, but very much fulfilling. Lineapelle was another step forward, closer to our goals. 
Truly a memorable experience.
---
Also in Learning From the Masters: My journey studying shoemaking in Florence