Learning From The Masters: My Journey Studying Shoemaking in Florence - Part 1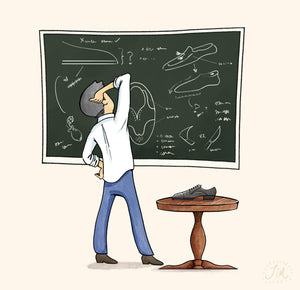 When Sapatero was established back in 2013, we did not know a lot about making shoes. All we knew was that shoemaking and shoes were art forms that we appreciated. The main objective we had was to revitalize the shoemaking industry of the Philippines, and we thought that the only way to do that was to be able to create the finest shoes here in the country. It was a big, ambitious dream, but certainly not an impossible one.
A big challenge we faced during our early years was the lack of know-how, and the lack of people in the industry to help budding shoemakers to grow and excel in their craft. Shoemaking in the Philippines, you see, is something of a dying craft; the old masters are reluctant to pass their knowledge to their children, instead preferring to send them off to the metro to take on corporate jobs rather than continue generational traditions. Besides this, we also did not have an organization or an institution which you can consult if you are facing a challenging project, or if you need advice regarding materials, tools, or manufacturing concerns.
Because of this, we always ended up looking for information elsewhere, and we usually found the information we needed from well-known shoemakers overseas. We always looked up at the foreign artisans –
G&G, Berluti
,
Stefano Bemer, John Lobb, Foster & Son
, etc. – their superb works, specifically their last shapes, the neatness and precision of their stitching, and the pristine treatments and finish on their shoes were the standard we hoped to achieve, and we frequently checked their works online or wherever we can to see if we could pick up some concepts that we can apply to our own shoes and improve our skills. We usually did pick up a couple of things, design concepts, aesthetic concepts, some other techniques on making this or that, but the big old shoot-for-the-stars dream was always to learn from these masters in person.
We know and believe that if we are able to learn their techniques, it would  broaden our horizons vastly.
Now there were quite a few options on where to learn: In London, there are those who offer shoemaking courses such as Carreducker, and lastmaking houses who offer bespoke last making courses. The bigger names rarely or do not take in apprentices or students. I remember casually messaging a lot of the big shoemaking names through Instagram, asking them if they are taking in students or apprentices. Unfortunately, and rather unsurprisingly, this didn't yield much response.

A more direct and formal approach was necessary if we were to tackle this goal seriously, and after exhaustive research, we wound up with two institutions that are viable - Esperanza School of Shoemaking in Japan, and Stefano Bemer in Italy. Both schools have their own pros and cons, and initially I was leaning more towards Japan as it was closer to home and thus more convenient. However, the deal breaker came in the fact that they only teach using the Japanese language, which meant that I had to learn Japanese, a beautiful but difficult language to master, sufficiently enough to be fluent prior to going.

While figuring out where to go, we focused on our other long-term goals, namely setting up our own independent establishment; and while this had been a plan from the very beginning, in 2019, six years after Sapatero started its journey, we finally put up our own store.

It was a big move which has also been in the books from the very start, but in only a matter of months, it proved itself to be a truly rewarding one. With the success of our own establishment, the dream of taking the next step to learn outside the country became even more of a reality and was heavily considered during this period.

It was during this time when, incidentally, well-known American shoemaker and blogger, Justin Fitzpatrick of J.Fitzpatrick Footwear and The Shoe Snob blog shared a photo of one of our Made To Order samples -- a woven single monkstrap made in dark brown Italian Museum Calfskin. This came to us as a pleasant surprise, but to us, meant much more than a mere nod from someone we look up to as craftsmen and as a brand. Justin himself studied shoemaking in Italy, under the famous Stefano Bemer school of shoemaking, and this recognition from him served as the final push that we needed to up our game and take things even further. The very next morning after Mr Fitzpatrick shared our work online, Raymond, one of my partners, gave me a call saying that they want to push through with Italy.

And just like that, the decision was final. In just a few months -- after six years of dreaming it -- I'll be packing my bags and heading to Florence.
- JR 
---
Also in Learning From the Masters: My journey studying shoemaking in Florence